Introduction
Introduction
Po Leung Kuk Choi Kai Yau School (CKY) has been an IB World School since April 2011. It offers the IB Diploma Programme (IBDP). The IBDP is a challenging two-year course, which prepares students for success in life beyond secondary education. The curriculum is specifically designed to promote international understanding through a broad and balanced academic experience. The DP allows students to embrace a strong commitment to learning skills that are required in the contemporary world and leads to a qualification that is widely recognized by the world's leading universities. Although the IBDP is examination based, it also enhances the development of life-long skills. Through the study of IBDP courses students develop critical thinking skills, independent learning skills and participate in creative, physical and service activities in the local community. This extra level of enrichment distinguishes the IBDP from other qualifications.
IB Learner Profile
The aim of all IB programmes is to develop internationally minded people who, recognizing their common humanity and shared guardianship of the planet, help to create a better and more peaceful world.
IB learners strive to be:
Inquirers We nurture our curiosity, developing skills for inquiry and research. We know how to learn independently and with others. We learn with enthusiasm and sustain our love of learning throughout life.
Knowledgeable We develop and use conceptual understanding, exploring knowledge across a range of disciplines. We engage with issues and ideas that have local and global significance.
Thinkers We use critical and creative thinking skills to analyse and take responsible action on complex problems. We exercise initiative in making reasoned, ethical decisions.
Communicators We express ourselves confidently and creatively in more than one language and in many ways. We collaborate effectively, listening carefully to the perspectives of other individuals and groups.
Principled We act with integrity and honesty, with a strong sense of fairness and justice, and with respect for the dignity and rights of pe0ple everywhere. We take responsibility for our actions and their consequences.
Open-minded We critically appreciate our own cultures and personal histories, as well as the values and traditions of others. We seek and evaluate a range of points of view, and we are willing to grow from the experience.
Caring We show empathy, compassion and respect. We have a commitment to service, and we act to make a positive difference in the lives of others and in the world around us..
Risk-takers We approach uncertainty with forethought and determination; we work independently and cooperatively to explore new ideas and innovative strategies. We are resourceful and resilient in the face of challenges and change.
Balanced We understand the importance of balancing different aspects of our lives – intellectual, physical, spiritual and emotional – to achieve well-being for ourselves and others. We recognize our interdependence with other people and with the world in which we live.
Reflective We thoughtfully consider the world and our own ideas and experience. We work to understand our strengths and weaknesses in order to support our learning and personal development.
The curriculum Model
The curriculum comprises six academic areas surrounding 3 core requirements.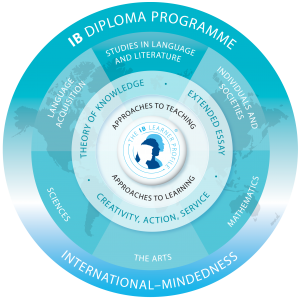 IB Diploma Programme students study six courses at higher level or standard level. Students must choose one subject from each of groups 1 to 5, thus ensuring breadth of experience in languages, social studies, the experimental sciences and mathematics. The sixth subject may be an arts subject chosen from group 6, or the student may choose another subject from groups 1 to 5.
In addition the programme has three core requirements that are included to broaden the educational experience and challenge students to apply their knowledge and understanding.
The extended essay is a requirement for students to engage in independent research through an in-depth study of a question relating to one of the subjects they are studying.
Theory of knowledge is a course designed to encourage each student to reflect on the nature of knowledge by critically examining different ways of knowing (perception, emotion, language and reason) and different kinds of knowledge (scientific, artistic, mathematical and historical).
Creativity, action, service requires that students actively learn from the experience of doing real tasks beyond the classroom. Students can combine all three components or do activities related to each one of them separately.
The IBDP subjects offered at CKY School
(1) Group 1 – Studies in Language and Literature
a. English Literature HL/SL
b. English Language and Literature HL/SL
c. Chinese Literature HL/SL
d. Chinese Language and Literature HL/SL
(2) Group 2 – Language Acquisition
a. English B HL/SL
b. Chinese B HL/SL
(3) Group 3 – Individuals and Societies
a. History HL/SL
b. Geography HL/SL
c. Business management HL/SL
d. Economics HL/SL
(4) Group 4 – Experimental sciences
a. Physics HL/SL
b. Chemistry HL/SL
c. Biology HL/SL
d. Design Technology HL/SL
(5) Group 5 – Mathematics and computer Sciences
a. Mathematics HL/SL
b. Mathematical Studies
(6) Group 6 – The Arts
a. Visual arts HL/SL
b. Music HL/SL
For more information regarding the IB Programme, Please visit www.ibo.org.
如對此課程有任何查詢,歡迎聯絡本校IB Coordinator。
電話: 2148-2052